Happiest New Year, Love,
I hope you enjoyed, and maybe are continuing to enjoy a fantastic holiday. I was with my family and we had a truly wonderful time together.
I did some number crunching last week. As an accountant and numbers wonk, it's one of my favorite things to do. I ran my regular yearly reports. But then, I decided to see how much in new sales I generated in the last 6 months, in addition to what I'm already bringing in my bookkeeping business.
I was pleasantly surprised to see this: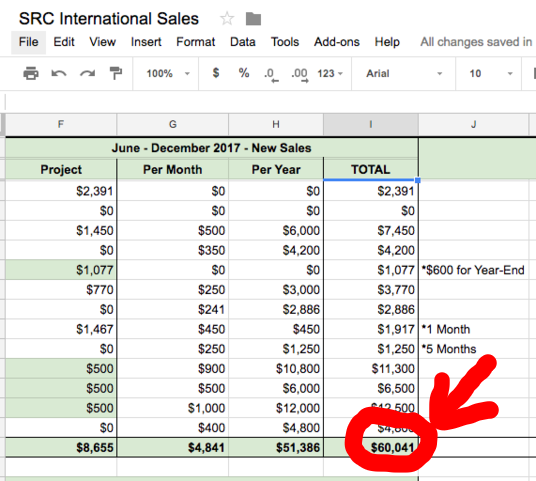 I've generated an additional $60K in sales in the last 6 months with ease. You're a critical thinker. So you're next question might be, what exactly do you mean by 'ease'? Great question. :)
By ease I mean... I don't advertise my bookkeeping services at all. I pay $0 to advertise it. I didn't go to any networking events to promote it. All of the $60K came through referrals.
By ease I mean, I have a rockstar bookkeeping assistant who does 85% of this work for me, so I can focus on other things I enjoy, namely spending quality time with my daughter.
Not only that, let me show you an email from a new client:

You'll notice my new client says my 'prices are good'. That means I'm not charging enough. This is a clear path forward to raise my prices in 2018. As of today, I have. That was easy. :)
So I looked back to 6 months ago, June 2017, and looked at what I changed. Well, interestingly, but not coincidentally, I started a new process in my daily mindset routine. It's working powerful wonders in my life, Love. Not just financially, which of course I love, but also personally.
I'm more at peace than ever before. I'm more on purpose than ever before. I'm helping more people than ever before and it feels really good.
I want to see you be outrageously abundant in all areas of your life. I'd love to help you reach your next level of wealth, with ease. And, I'd love to see how this powerful mindset process I'm using, can work for others -- namely you, Love, in a beta private coaching program. 
I only have room to take on 5 new private clients for the next 6 months. There will be a fee of course. It will be lower than my current coaching programs, as this is a beta offering, and I'll be asking for your specific results and feedback throughout the 6 months.
If you're interested, apply for one of the 5 spots I have available here ---> Beta Private Coaching Program with Simone
Now don't get me wrong, Love. There's a certain level of expertise and service that I offer my clients, that other bookkeepers don't. To be a successful business owner, we each have to figure out the unique 'special sauce' that we offer the market.
But here's the thing, the unique special sauce that I bring my clients, is only responsible for 20% of my results -- it's 20% responsible for the extra $60K I made.
As you may already know, 80% of the reason I generated (on average) $10K per month, in the last 6 months, with ease, is how I think and feel about myself, my business and money.
So, if you're clear on your business 'secret sauce' and you have a strategy in place to make money in your business, this beta private coaching program with me, can be the key to having the abundance breakthrough you want in 2018.
Apply for one of the 5 spots available here ---> Beta Private Coaching Program with Simone
Abundantly yours,
Simone
Your Money Mindset Coach
P.S. 2018 is geared up to be our best year yet. Let's create a great one, together.